Dry Needling
Sometimes all you need a small prick with a small needle to help ease a painful, knotted muscle. It may seem impossible, especially with a muscle that has resisted other forms of treatment.
A technique called trigger point Dry Needling had become a lot more popular as an addition to physical therapy treatment plans. Physical therapists rarely use dry needling as a treatment by itself and can be included as a part of a patient's overall manual therapy treatment plan. Other treatments, including soft tissue work, deep tissue work, stretching techniques, and strengthening exercises, help compliment the effects of dry needling. Dry Needling does not replace other manual physical therapy techniques.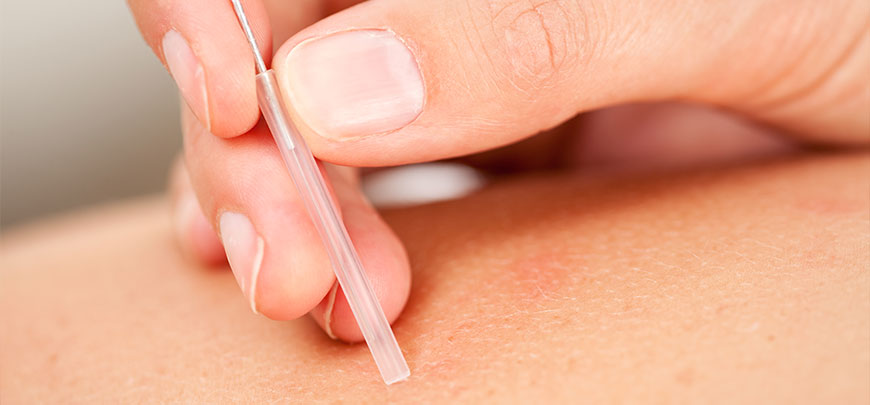 Benefits of Dry Needling
Therapeutic Dry Needling can help release pain, ease acute inflammation, and promote overall healing. It helps chronic muscle tightness by stimulating trigger points in a skeletal muscle. These are also called knots, and cause pain in the surrounding tissues as well. Trigger points are also called myofascial pain.
The larger part of your therapy plan involves your therapy applying dry needling to help release trigger points, improving your movement. One of the many effects of dry needling is that it may release tight muscle bands associated with trigger points and lead to decreased pain and an improvement in function. Other research suggests that Dry Needling can produce changes within the brain and spinal cord that provides pain relief by releasing the body's natural opioids.
It is an excellent treatment option for patients who want to return to their previous activity level or sport without restrictions. While the procedure's name may sound intimidating, Dry Needling is safe, minimally discomforting, and often a useful technique for patients with specific musculoskeletal issues.
At Pain Rehab Center, skilled, certified physical therapists perform our Dry Needling treatments. A thin needle penetrates the skin, treating the underlying muscular trigger points, which helps manage neuromusculoskeletal pain and any movement impairments.
Muscle stiffness can happen after surgery, usually caused by pain and post-operative limitations. Muscles in this state are not able to develop the right amount of force required to function normally. With the decrease in anxiety and regular tone rehabilitation from dry needling, the patient can resolve any range of motion limitations, faulty movement patterns, and muscle timing issues. They are then able to their previous activity level.
What is a trigger point?
A trigger point is a tightness felt in a muscle fiber that can disrupt normal function and limits the range of motion, cause referred pain, or cause local irritation. When applying dry Needling to a dysfunctional muscle or trigger point, it can decrease tightness while increasing blood flow and reducing local and referred pain.
Dry Needling is not related to acupuncture, though it does use similar tools, which is where the similarities end. Acupuncture is Eastern medicine, while dry Needling is rooted in Western medicine. Both help evaluate pain patterns, posture, movement impairments, function, and orthopedic tests, though Dry Needling focuses on the pain, rather than bringing balance to the body.
Dry Needling treats muscle tissue, and its goal is to reduce pain, inactivate trigger points, and restore function. It rarely is a standalone procedure. Instead, it is part of a broader physical therapy approach, including other conventional physical therapy interventions into treatment. Dry Needling helps a wide variety of musculoskeletal issues, especially in the shoulder, neck, heel, hip, and back pain.
After Dry Needling
You may be sore right after treatment where in the area the Drying Needling was performed, and it is entirely normal. Soreness may begin after a few hours or the next day. The pain is also different for each person, though it typically feels like you had a hard workout. Soreness can last up to 48 hours, so you should make sure to let us know at your next visit how long the pain continued.
Bruising can occur from Dry Needling, though the shoulders, chest, face, and parts of the arms and legs are more likely to bruise. If you are worried, please call your provider. It is also common to feel many emotions after treatments, including fatigue, a boost in energy, giggly, or "out of it."
If you noticed that it lasts for more than a day, contact us as a precaution. Dry Needling rarely makes your symptoms worse, though you need to note if it continues past the 24-48 hours. This information can help your therapist change your treatment plan required, though it does not mean Dry Needling cannot improve your condition.
Conditions Treated
It has shown to effectively alleviate conditions like spinal pain, tennis elbow, plantar fasciitis, and Achilles tendinitis. Furthermore, Dry Needling can relieve muscle spasms, muscle or band tenderness and tightness, and some tension-related muscle conditions. It is an excellent way for patients to get help following trauma from a car accident, a sports-related injury, and other non-surgical interventions.
Overall, when you incorporate dry Needling into a treatment plan, the musculoskeletal function is restored much more quickly. At Pain Rehab Center, our patients can generally expect to see positive results after 2 to 4 sessions.
What should I do after my treatment?
We highly suggest doubling your water intake for the 24 hours after your Dry Needling treatment. Water can help you avoid or reduce soreness. After Dry Needling treatment, you can do a few other things to help, though you should remember that if it hurts or makes your symptoms worse, stop doing the activity.
Work out or stretch
Continue your regular physical activity
Lightly massage the area
Use ice for soreness
Continue to take medications as prescribed

Avoid after treatment

Strenuous activity to the treated muscles
New physical activities or sports
Physically doing more than you usually would
Are you interested in learning more about how dry needling can help you find pain relief? Give Pain Rehab Center in Fairmount Heights a call at (301) 925-2013. With Dry Needling, our patients experience quicker relief, since dry needling therapy speeds up the healing process compared to other treatment options. Give us a call today!
Having Pain After An Auto Accident?
At Pain Rehab Center, we are highly experienced in auto accident injury care and rehabilitation. Call now to get started with your customized treatment plan!
What Our Patients Are Saying
Our patients share their experiences and find out why we are the top rated auto accident injury clinic in the Fairmount Heights-area.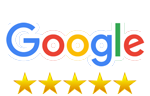 I have never been more welcomed and felt like family than at any other doctor's office that I have been to. The moment you walk into the doctor's lounge you are greeted by the most pleasant medical receptionist on this side of the planet. The professionalism of this staff and the care shown by the doctor is why I gave them 5 stars.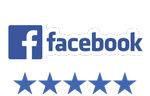 They helped me to heal after getting whiplash from a hit and run accident. They also worked with on how to pay for session. Definitely one of the best chiropractor experiences I've had.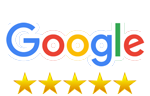 After an incident about 2 months ago I was not able to work due to low back pain and right leg numbness. My orthopedic Dr put me on some pills to make me even more drowsy and sleepy all day instead of helping me with the pain to be able to go back to work and I was also referred to a physical therapist in Washington DC for pain management. After 1 month and a half going there 4 times a week there was only very minimal relieve so I decided to talk to my attorney to be seen by another provider in the area. Then I found Dr Gela, she is very knowledgeable and professional and her staff are very friendly. They provided me with the transportation for every visits since I have no ride at this moment. Dr Gela was able to help me walk pain free in 5 visits and I returned to work after being out of work for almost 2 months. I highly recommend pain and rehab center if you are suffering from injuries.
New Patient Special!
We accept medical liens, so your road to recovery is easier! Get started by scheduling your free consultation with our doctor.